Sekolah Sri UCSI Springhill Campus is situated in the growing township of Springhill, surrounded by lush greenery; a vibrant educational environment with boarding facilities conducive for optimal experiential learning. We combine the best of the Malaysian National Curriculum with a global perspective and prepare our students for global success. Sekolah Sri UCSI Springhill Campus blends both local and international approaches to education and our students benefit from a diverse school experience and culture in an environment where English is the primary mode of communication.
Sekolah Sri UCSI Springhill Campus strongly embraces the belief that learning occurs in many different settings beyond the walls of a traditional classroom. We introduce our students to a variety of exciting, stimulating and enriching experiences. We further encourage the growth of a global perspective in our school by integrating concepts such as international mind sets, sustainable development and 21st century skills to better equip our students for the demands of the ever-changing world.
We understand and appreciate that every child possesses unique strengths and talents. We strive to create a stimulating environment and meaningful learning process, focusing on the holistic development of the child. We believe that children will flourish when they are equipped with skills in exploring ideas and knowledge, collaborating effectively with others and solving problems through creativity and tenacity.
Dual Certification
We offer the National Curriculum (KSSR and KSSM) as well as the International Cambridge curriculum in which we teach Cambridge English, Mathematics and Science with Mandarin taught under the Chinese Language Proficiency Programme (HSK).
A Malaysian National Curriculum for Global Education
Fostering growth through education to nurture global citizens with sterling leadership skills, excellent teamwork, multi-tasking abilities, multilingual skills, independence, global adaptability and the ability to surmount any challenge.
Distinctive and Differential Education Practitioners
A skilled and dedicated team of educators inclined towards the inquiry-based approach of instruction who emphasise the use of IT as a tool for effective teaching and learning.
Learning Beyond Boundaries
Our students are exposed to a variety of learning adventures through exposure to vast experiences and opportunities across the board spectrum of campus community, promoting a holistic education.
State-of-The-Art Academic Facilities
Located on a 20-acre ground, our school provides a wide range of international standard facilities, including an Olympic-sized swimming pool, a 9-hole golf course, a football field and a full boarding experience.
Regular school hours are:
Primary:
Mondays-Thursdays
8:00am – 3:30pm
Fridays
8:00am – 1:30pm
Secondary:
Monday
8:00am – 4:30pm (3:00pm – 4:45pm — Games)
Tuesdays-Thursdays
8:00am – 3:30pm
Fridays
8:00am – 1:00pm
About Our Logo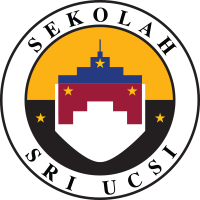 Within the inner circle is the picture of a ship.
The black semi circle represents the deep ocean of knowledge.
The yellow semi circle depicts the dawning of a bright future.
The five stars represent excellence.
The steps on the ship represent progress
The spire on the ship represents the pinnacle of success.