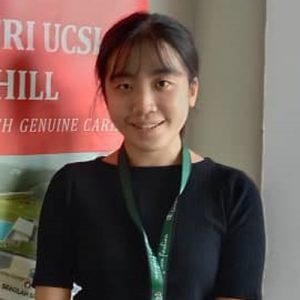 Lim Mei Shin possesses a Bachelor of Science (Hons) in Quantity Surveying from Universiti Tunku Abdul Rahman (UTAR). Her degree was accredited by the Malaysian Qualifications Agency (MQA), the Board of Quantity Surveyors Malaysia (BQSM), and the Royal Institution of Chartered Surveyors (RICS) 
After completing her degree, Lim had undergone training in the construction field. She has learnt to become a person who had a logical mind and analytical skills. 
Additionally, one of her strengths is to create lesson plans that respond to the students' needs. She always communicates with other teachers on her students' progress in a supportive way. Lim possesses a genuine enthusiasm and passion for teaching Mathematics. She integrated her enthusiasm for the subject with the latest teaching methods and techniques.  
Lim has teaching experience at Day Care Centres to develop inspiring lessons that stimulate the children's creative learning. Currently, she also works as a tutor fo Pre-School and Primary School. She loves teaching and dedicates herself to education.