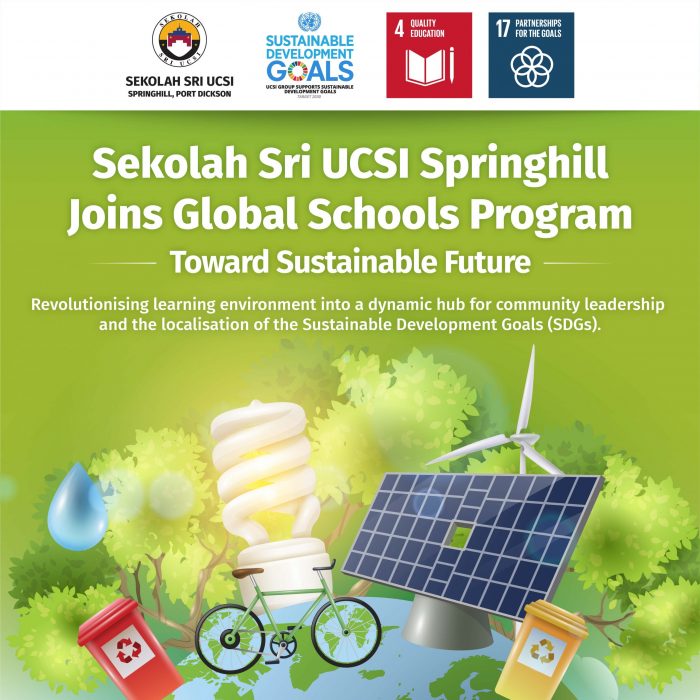 Sekolah Sri UCSI Springhill is now a member of the Global Schools Program which encourages primary and secondary school students to participate in Sustainable Development Goals (SDGs). The programme aims to create a learning environment and subsequently transform the school into a hub for SDG education and leadership while encouraging students to adopt sustainable development into their professional and personal lifestyles. 
The SDGs were developed by the United Nations Department of Economic and Social Welfare, demanding for action beyond 'business as usual.' Achieving these goals will involve critical stakeholders such as government agencies, civil society, businesses, academia, and youth to collaborate and participate extensively. 
The 17 Sustainable Development Goals (SDGs) came into effect in January 2016 consisting of a shared global framework. This framework aims to eradicate extreme poverty, inequality, and injustice while addressing climate change, environmental protection, as well as encourage good governance, peace, and security by 2030. 
Poverty and inequality, weak governance, conflict and instability, lack of infrastructure, and natural resources depletion would result in irreversible long-term problems that often undermines growth and prosperity efforts within any social community. 
As a learning institution, Sekolah Sri UCSI Springhill will play an important role to address these global challenges and accomplish these goals. It will join hands with other schools to carry out the responsibility of nurturing and shaping positive values while developing leadership skills for students towards building a sustainable future. These schools could leverage through their unique positions within the society to transform their environment into hubs for community leadership and localisation of Sustainable Development Goals. 
Sekolah Sri UCSI Springhill is proud to join this global community of schools and educators. It looks forward towards contributing to the international education movement in Malaysia.