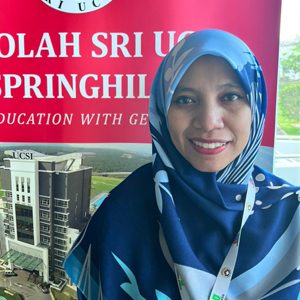 Ramlah Binti Ismail is a teacher with a Degree in Corporate Administration and a Diploma in Public Administration from MARA University of Technology. Her passion for teaching has led her to pursue the field of education as a major in her career.  
She has almost 13 years of experience in private schools and attended various courses organised by the Ministry of Education Malaysia. These courses are related to assessment, examination, and marking of examination papers. She is also experienced in providing motivational courses and facilitating programmes involving school children's education.
Other courses under the Ministry of Education Malaysia included Classroom Assessment Course (PBD), DSKP Upgrading, Scoring Scheme Workshop, Intellectual Leadership Workshop for Teachers nationwide and various workshops and seminars organised by the ministry.
She earned the title of Master Excellent Malay for four consecutive years and holds the position of Senior Curriculum Teacher for two years. She is a patient teacher with extensive knowledge in teaching pedagogy and a strong commitment to student needs.
Her interest in reading and cooking enabled her to introduce school programmes that focused on the love of books and the world of cooking that aims to foster positive reading habits and cooking skills.
She is an experienced school representative and guest speaker for students in rural schools. Her motivational talks emphasise loving, sympathetic and patience in all student-related activities.
Ramlah used positive reinforcement to advise and encourage good behaviour among students. She practices the principle of "Loving students as we love our own children" and is deeply committed to her student's wellbeing.