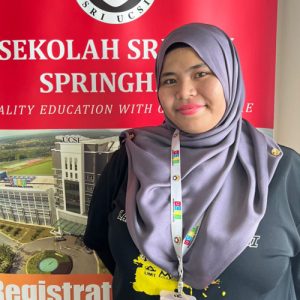 Nurshazreen Amniza Binti Muhammad Amnizam
PE Teacher & Swimming Coach
Shazreen holds a degree in Marine Biology from Universiti Malaysia Terengganu (UMT). Prior to UMT, she attended college at Malacca Matriculation College (MMC). Although her background is related to science, Shazreen chose the education field as her career pathway because of her passion in teaching and ensuring a better future for our youngsters and teenagers. 
She began her career with the Marine Department of Malaysia (MARDEP) during her internship. She also worked as an academic tutor in one of the infamous tuition centres located in Sunggala Gateway, Port Dickson.
Shazreen had been trained as a lifesaver for 2 consecutive years. She also received her Expired Air Resuscitation (EAR) and Bronze Medallion (Royal Life Saving) certified by the Life Saving Society of Malaysia (LSSM). On top of that, Shazreen also completed her Aquatic Rescue Management (ARM) Course in Pulau Bidong, Terengganu successfully, and earned the Outstanding Service Award in College Representative during her bachelor's degree. Shazreen also has great enthusiasm and competence in teaching swimming lessons since she has conducted many swimming classes for beginners, especially among her juniors.
She also joined various awareness programmes related to her deep interest in the world of marine conservationists, as well as taking part as Malaysia's Representative in the SMART 3.0  Online Pitch Competition 2021.