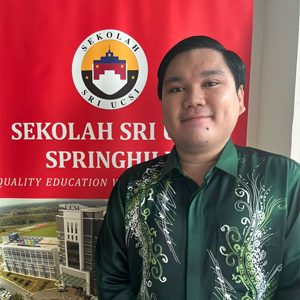 Design & Technology (RBT) Teacher
Amin is a university graduate in Mechanical Engineering and in Technical and Vocational Education. He obtained his Bachelor's degree (B.Eng.) and Master's degree (M.Edu.) from Universiti Tun Hussein Onn Malaysia. Prior working at Sekolah Sri UCSI, he served as a public-school teacher and tuition teacher for both primary and secondary schools for approximately two years.
Amin has always been keen in teaching and has extensive experience teaching students from various ages, ranging from primary to secondary school. He furthered his studies in the education field right after graduating his Bachelor's degree because he wanted to equip himself with knowledge and skill that revolves around the education field and prepare himself to become a competent teacher. Amin believes that learning should be balanced in every aspect. Hence, balancing the learning domains that involve cognitive, psychomotor and affective teaching and learning sessions will help students to achieve a better performance.