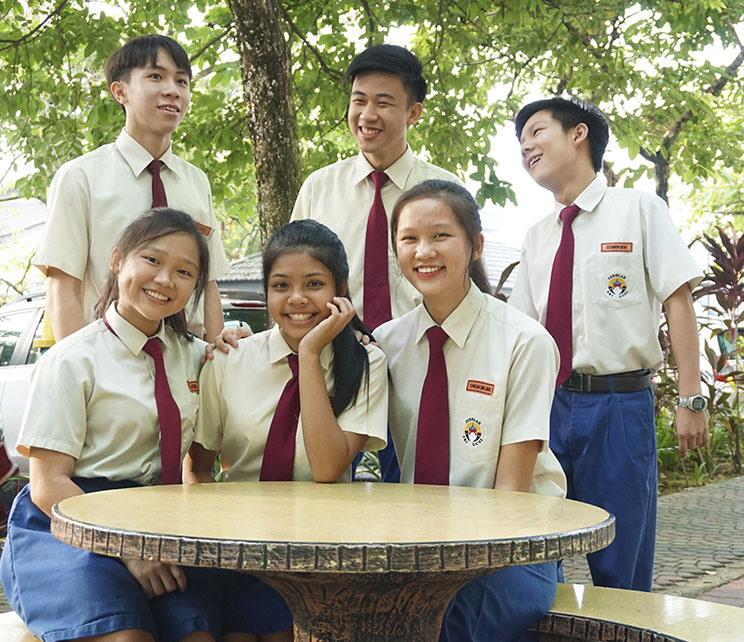 Secondary School (Age 13-17)
Sri UCSI Secondary School follows the National Curriculum (KSSM) with the following additional programmes:
Cambridge Lower Secondary English, Mathematics and Science
Cambridge IGCSE offered to selected students for upper secondary
Mandarin for Form One to Form Five in preparation for HSK and SPM
A structured Speech and Drama Programme
Weekly Games Coaching Programme
At Sri UCSI Secondary School, we prepare all our Lower Secondary students for PT3 (Form 3) and Cambridge Lower Secondary Checkpoint Tests (Form 3). We prepare all our Upper Secondary students for SPM (Form 5) and selected students for Cambridge IGCSE (Form 5).
Sri UCSI Secondary School fully subscribes to the National Education Philosophy. In line with this, we provide our students with a conducive learning environment and experience that will develop them into competent and responsible young men and women who will be capable and willing to contribute to their families and our society.
Malaysian National Curriculum (KSSM)
At Sri UCSI Secondary School, we offer Kurikulum Standard Sekolah Menengah (KSSM) from Form 1 to Form 5.
Lower Secondary (Form 1 – 3)
Subjects taught are: Bahasa Melayu, English, Mathematics, Science, History, Geography, Design and Technology, Mandarin, Moral Studies (non-Muslim students only), Islamic Studies (Muslim students only) and Visual Art.
Students will sit for PT3 in Form 3.
Upper Secondary (Form 4 – 5)
Core subjects taught are: Bahasa Melayu, English, Mathematics, Science, History and Moral Studies/ Islamic Studies. The elective subjects are Additional Mathematics, Chemistry, Biology, Physics, Principles of Accounts, Economics, Business Studies, Visual Art and Mandarin.
Students will sit for SPM in Form 5
Mathematics and Science in English (DLP)
Sri UCSI has been granted approval by the Ministry of Education, Malaysia, to conduct the Dual Language Programme(DLP). The Dual Language Programme allows the School to teach Mathematics and Science subjects in English. Students in Sri UCSI following the programme will take these subjects, in English in their public exam such as PT3 and SPM.
At Sri UCSI Secondary School, we teach the Cambridge programme alongside the national curriculum from Form 1 to Form 3 and for selected students for Form 4 and 5.
Cambridge Lower Secondary
The subjects taught are English, Mathematics and Science.  Students will sit for Cambridge Lower Secondary Checkpoint Tests in Form 3. The tests are marked in Cambridge and provide us with an external international benchmark for our students' performance. Each student receive a statement of achievement from Cambridge.
International General Certificate of Secondary Education (IGCSE)
IGCSE is offered to only selected students in the Upper Secondary and the subjects taught are Biology, Chemistry, Physics, Mathematics and English. Students will sit for IGCSE examination by Cambridge Assessment International Education.
Mandarin classes in Sri UCSI Secondary School are for all students. Each class is divided into different groups based on the students' proficiency in the language.
Group 1 students will eventually take Mandarin as an exam subject for their PT3 and SPM examination. The Hanyu Shuiping Kaoshi (also known as Chinese Proficiency Test/ HSK) is optional for them.
Students in other groups can take the Hanyu Shuiping Kaoshi  (HSK), an International Chinese Proficiency Test.
Among our Form 3 students, we have some youth reporters who report to the Sin Chew Daily. We also have students participating in the annual winter camp held in China in the month of December.
Structured Performing Arts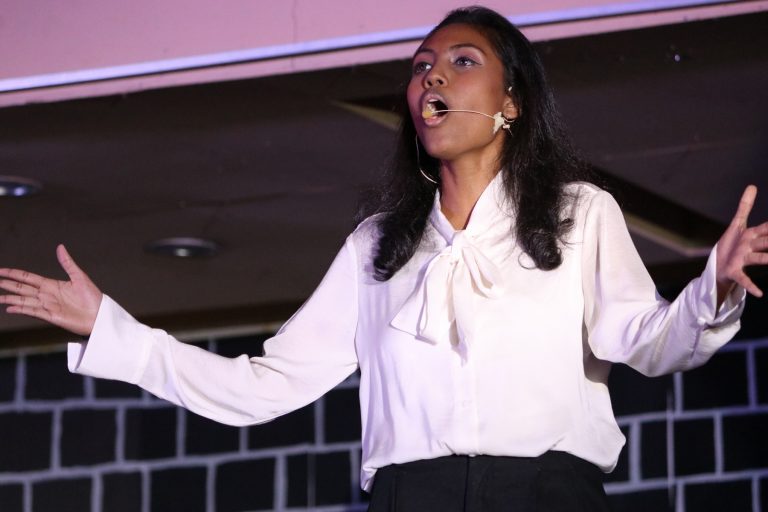 The Structured Performing Arts programme is part of the school's curriculum for all students from Secondary 1-3. Speech & Drama classes are incorporated into the students' time-table once a week.
Our Speech & Drama classes offer children the opportunity to master techniques and skills necessary for effective communication while loving every minute of it! Active participation is also what we strive for in our Speech & Drama classes.
In this programme, students learn:
Voice projection
Acting
Speech skills
Monologues
Creative imagination
Interpersonal skills
Confidence in speaking in front of an audience
Sri UCSI Secondary School also emphasizes the importance of exposing our students to the world of theatre. Every year, the reputable Shakespeare Players come to our school to stage a full production on famous plays. Thus far, we have had them stage Macbeth, The Merchant of Venice, Romeo & Juliet and The Tempest in our school, intriguing both students and teachers.
At the end of the first term, the Form 1 students will showcase to their parents during Report Book Day what they have learnt during Speech & Drama Classes.
At the end of the academic year, the school will stage a musical production which will involve acting, singing and dancing.
The co-curricular activities (CCA) at Sri UCSI Secondary School are a compulsory part of the school activities as a whole. CCA are an integral part of the school life of any student. CCA can help promote the growth of students by teaching them social skills, moral values, and leadership capabilities among many other benefits.
The co-curricular activities (CCA) at Sri UCSI Secondary School include Uniformed bodies, Clubs and Societies, and Games.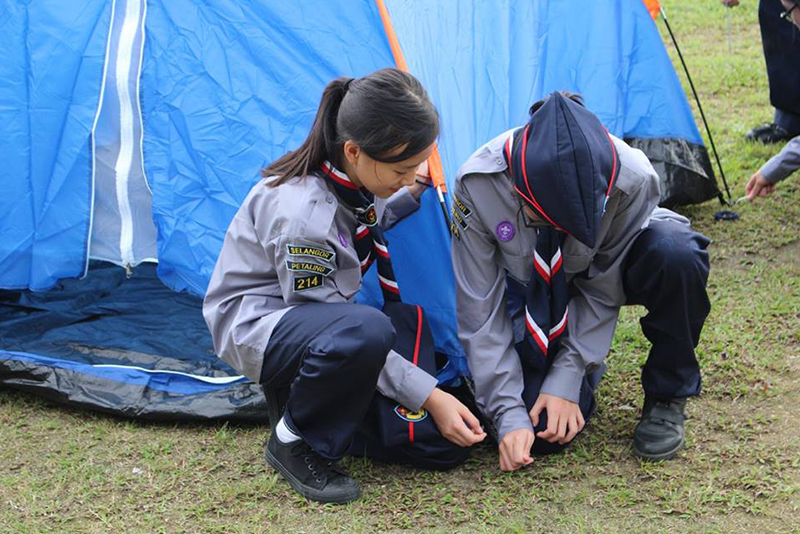 There are 4 different types of Uniformed Bodies which are Brigade, Scouts, St. John Ambulance, and the Fire and Rescue Cadet. These organizations play a huge part in instilling discipline and commitment among students. We ensure that our Uniformed Bodies adhere to the respective uniform organizations' specifications.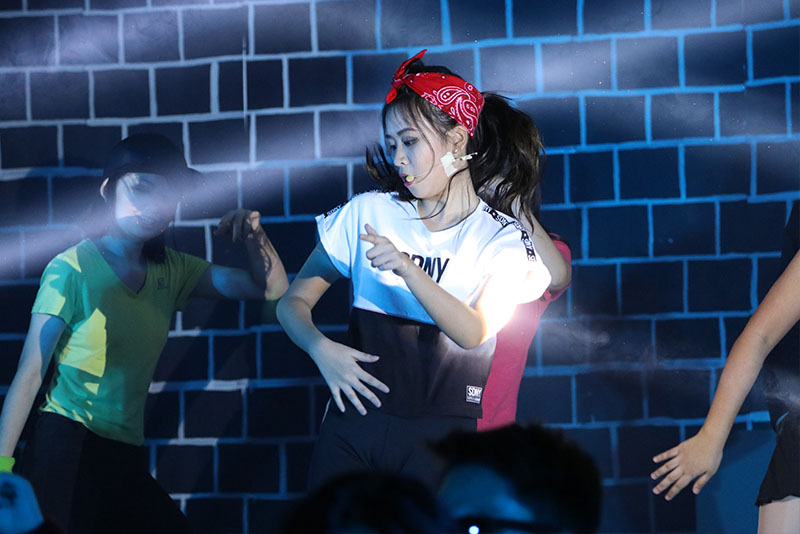 There are many types of clubs and societies which consist mainly of hobbies and recreational activities such as sewing, cooking, photography etc. Students are given the opportunity to pursue a club or society of their interest and move towards developing their leadership and organizational skills.
Music
Performing arts
Speech & drama
Cooking
Nature
Arts & Crafts
Coding & Robotics
Young Entrepreneurs
Mandarin
History
Math & Science
Photography
Handicraft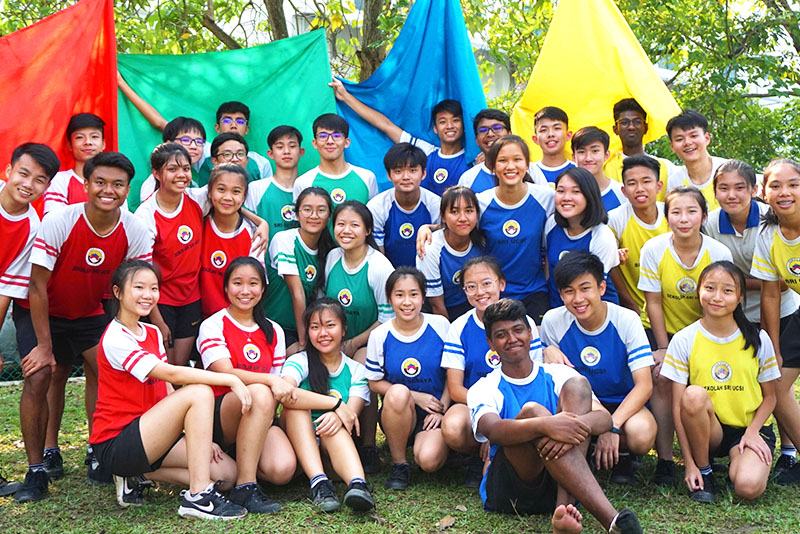 Sri UCSI Secondary School also offers a wide variety of outdoor sports and games to choose from. External coaches are brought in to conduct training at various locations. Students may opt for more rigorous sports such as football or netball, or take the opportunity to learn new skills such as dancing or playing musical instruments.
Badminton
Basketball
Chess
Futsal
Netball
Table Tennis
Indoor game
Telematch
Handball
Karate
Volleyball
Wushu
Dance
Aerobic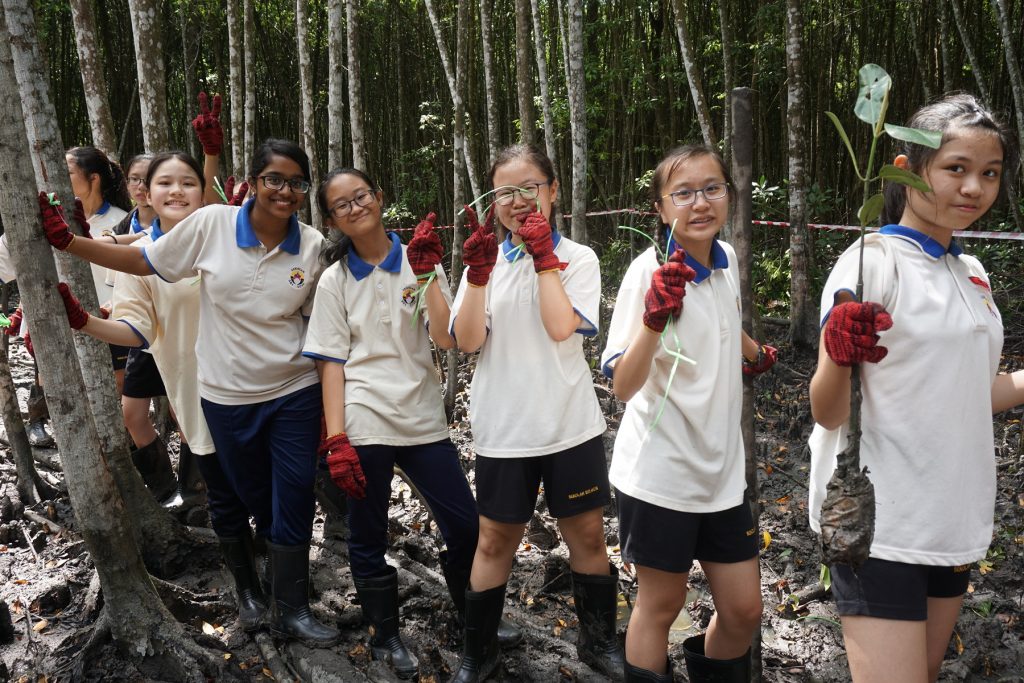 Responsibility Towards Environment and Society
In our effort to conserve the environment and give back to society, we do more than just giving monetary support and organizing a one-off event. Sri UCSI Secondary School students experience the joy of fulfilling their obligations to social responsibility in a tangible way and make the act of giving back to society and conserving environment a part of their lifestyle.
We started our Bring Your Own Utensils campaign in 2018. We are saying "No" to single-use plastic utensils when we are on school campus.
Sri UCSI Secondary School students guide and coach students at our neighbouring primary schools in areas such as first-aid, marching and scouting.
Canteen Day is organised as part of our National Day celebration every year. Funds raised have been channeled to NKF for the purchase of a dialysis machine, mangrove tree planting programme at Kuala Selangor and other NGOs. Funds are also raised for charity by the various student organizations all year round.
It is the objective of our school to provide quality education to the students. Through the educational trips, students will gain valuable educational opportunities away from the classroom. This enable them to widen their knowledge and experience while having fun in a more informal environment.
Student Leadership Training Programme
The leadership training is specially organized for our student leaders of Prefect Board, Library Board, various Uniformed Bodies, Clubs and Games. This is to help our student leaders to develop their leadership and communication skills, at the same time to build more effective team work among them.
Nature Exploration Camps are outdoor forest fun, with plenty of time for nature connection, exploration, creativity and discovery. These camps are held at forest reserves such as Taman Negara and Belum-Temengor Rainforest.
Academic exhibitions are organized for the students to explain what they have learnt in school to their parents and their fellow friends. This helps to strengthen school-home partnership and at the same time provide a platform for the students to hone their presentation skills.
Study Camp and Academic Workshop
Study Camps and Academic Workshops are organized during school holiday to help the students with their academic progress. SPM and PT3 workshops are facilitated by experienced examiners and master teachers who help students prepare for their examinations by sharing useful exam answering techniques and guide to develop effective study strategies.

Microsoft Education School
Sri UCSI Subang Jaya takes importance in instilling interest in technology in its students. Therefore, our teachers are certified in Microsoft programmes such as Microsoft Office 365, Minecraft, Teams and STEM in order to move into the digital era towards a 21st Century Education Centre.
Our school calendar will help you stay well informed and up-to-date.

Bookshop will start from 28 December 2020