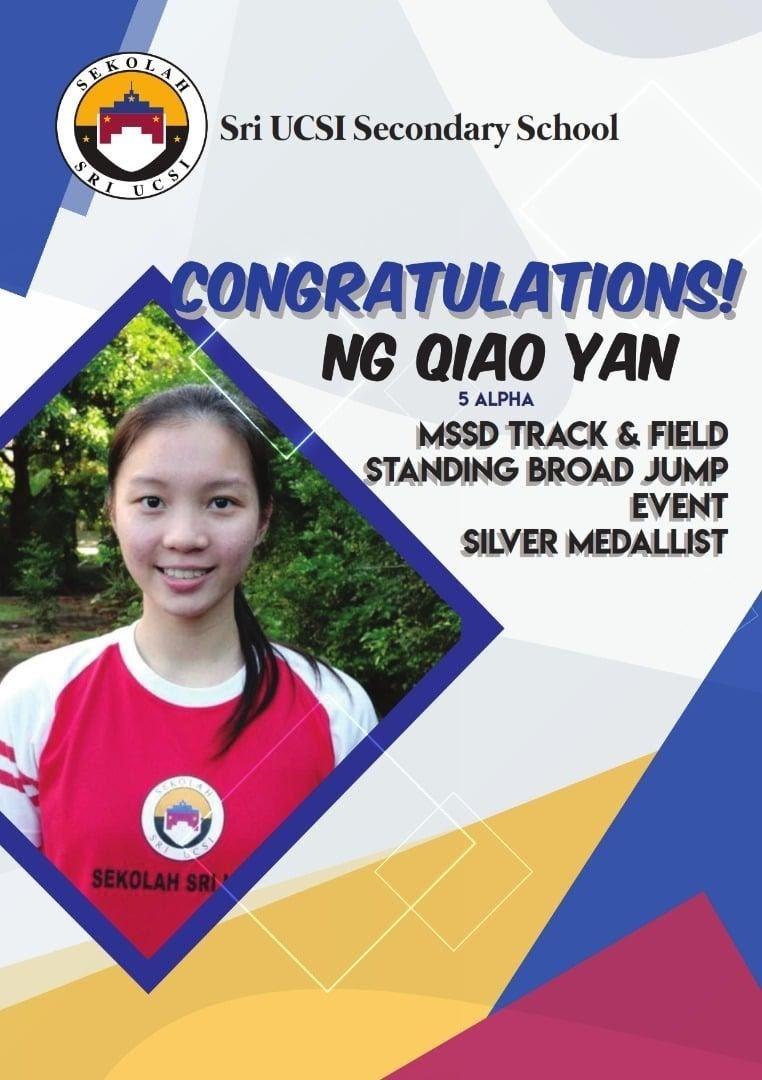 NG QIAO YAN
Despite the restrictions caused by the pandemic this year, our talented student Ng Qiao Yan was able to win a silver medal in the MSSD Standing Broad Jump Event, beating out 16 other students from different schools.

Everyone at Sekolah Sri UCSI Subang Jaya, is extremely proud of her accomplishment and will continue to support her when she represents the Petaling Perdana district for the upcoming MSSS state competition.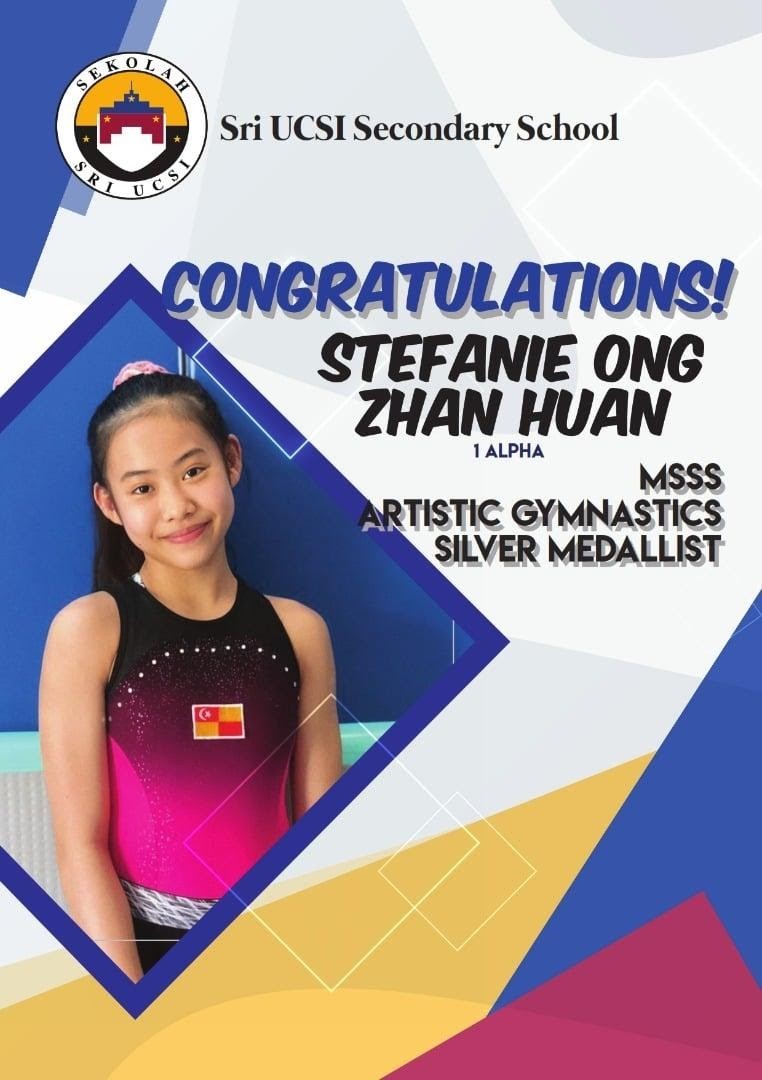 STEFANIE ONG ZHAN HUAN
Our skilful student, Stefanie Ong was able to take home the Silver Medal in the Artistic Gymnastics Competition. Sekolah Sri UCSI Subang Jaya, are extremely proud of her grit and determination of securing second spot at the MSSS regional competition despite the restrictions caused by the ongoing pandemic.

We will be cheering her on when she returns to represent the Selangor state at the upcoming MSSM national level competition.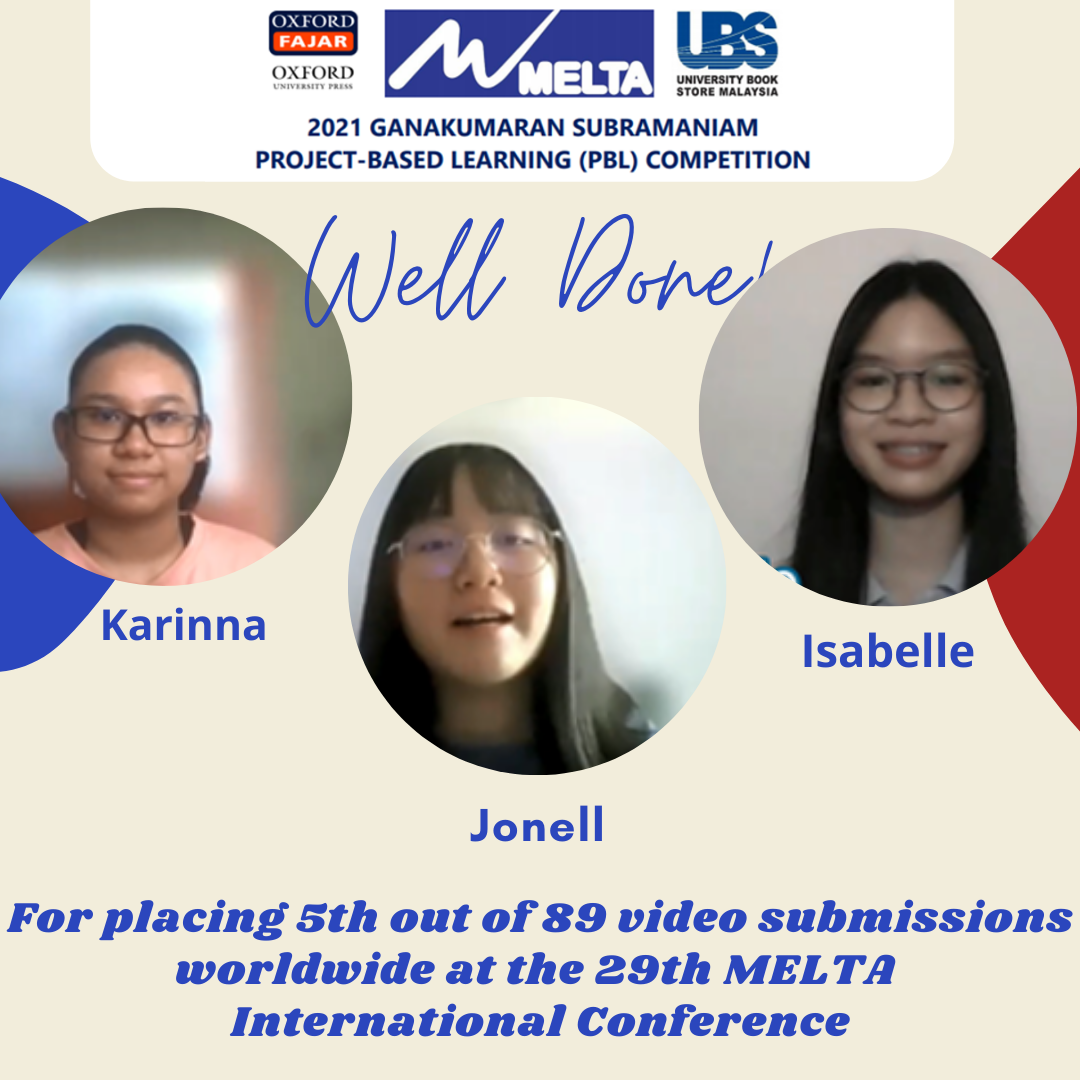 Karinna Haseena, Isabelle Siew and Jonell Chan
Huge congratulations to Karinna Haseena, Isabelle Siew and Jonell Chan for achieving a certificate of Merit for "Outstanding Performance" at the recent MELTA International Conference.

The trio's video titled "Overcoming Challenges faced by Secondary School Teachers During Online Classes" placed 5th out of 89 other video submissions, worldwide! A massive feat by our brilliant students, making everyone at Sekolah Sri UCSI Subang Jaya extremely proud in the process.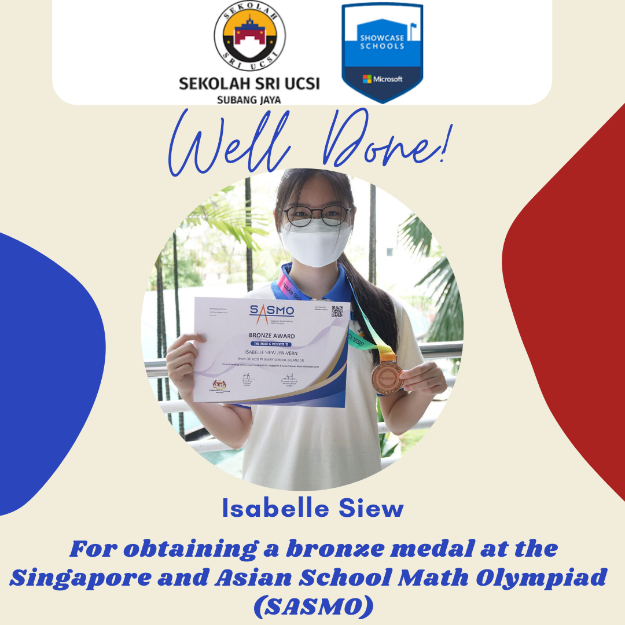 Isabelle Siew


Congratulations to Isabelle Siew who has beaten the odds during the pandemic to obtain a Bronze award in the Singapore and Asian School Math Olympiad (SASMO). Everyone at Sekolah Sri UCSI Subang Jaya are extremely proud of you!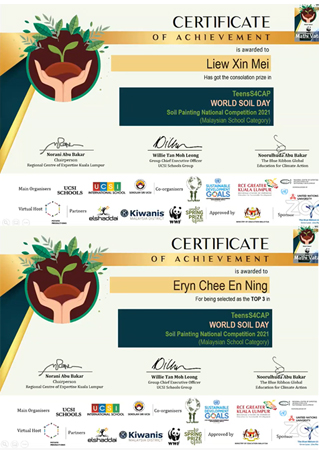 Eryn Chee En Ning & Liew Xin Mei
This year's World Soil Day- soil painting national competition saw hundreds of entries that adhered to the theme "Halt Soil Salinization, Boost Soil Productivity". Our students at UCSI recognized the key role that soil health played in climate action. We are so proud of their awareness and knowledge of soil preservation as part of an ongoing commitment in caring for Mother Earth.

We delight in congratulating our students who won in this year's World Soil Day competition. Bringing creativity into their soil paintings and videos spoke loudly about the need to be more vigilant on climate action matters, soil health being a major concern. At Sri UCSI Subang Jaya we believe in a holistic approach to students' education preparing them for a bright and relevant future equipped with 21st century skills that includes sustainable development goals.

Well done Liew Xin Mei & Eryn Chee En Ning!