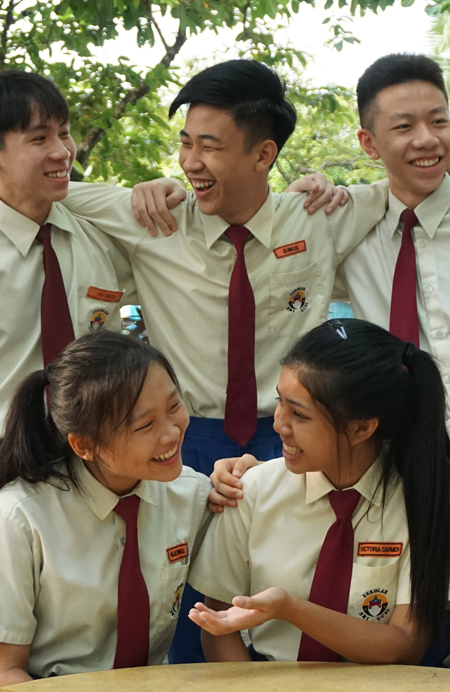 Secondary Curriculum (Form 1 – 5)
Sri UCSI KL follows the National Curriculum (KSSM) with the following additional programmes:
Cambridge Lower Secondary English, Mathematics and Science
Cambridge IGCSE offered to selected students for upper secondary
Mandarin for Form One to Form Five in preparation for HSK and SPM
At Sri UCSI Secondary School KL, we prepare all our Lower Secondary students for PT3 (Form 3) and the Cambridge Lower Secondary Checkpoint Tests (Form 3). We prepare all our Upper Secondary students for SPM (Form 5) and selected students for Cambridge IGCSE (Form 5).
Sri UCSI Secondary School KL fully subscribes to the National Education Philosophy. In line with this, we provide our students with a conducive learning environment and experience that will develop them into competent and responsible young men and women who will be capable and willing to contribute to their families and our society.
Lower Secondary (Form 1-3) Subject Listing:
English
Mathematics
Science
Design & Technology
Music Studies
Mandarin
Bahasa Malaysia
Sejarah
Geografi
Asas Sains Komputer
Pendidikan Jasmani & Kesihatan
Pendidikan Moral / Agama Islam
Pendidikan Seni Visual
Cambridge Curriculum: English, Mathematics & Science + Primary Checkpoint
Upper Secondary (Form 4-5) Subject Listing:
English
Mathematics
Bahasa Malaysia
Sejarah
Pendidikan Jasmani & Kesihatan
Pendidikan Moral / Agama Islam
Mandarin (Optional)
Additional Mathematics (S)
Biology (S)
Chemistry (S)
Physics (S)
Science (B)
Prinsip Akaun (B)
Ekonomi Asas (B)
Pedagangan (B)
Cambridge IGCSE: English, Mathematics, Chemistry, Physics, and Biology
*(S) – For Science stream students / (B) – For Business stream students
Monday – Tuesday: 8.00am-4.45pm (CCA: 3.55pm – 4.45pm)
Wednesday – Thursday: 8.00am-3.55pm
Friday: 8.00am-12.45pm (Optional CCA: 1.30pm-2.30pm)