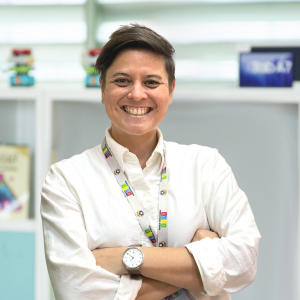 House Parent/Secondary English & Drama Teaching Assistant
Nationality:
British
Qualifications :
Master of Arts in Applied Theatre (in social, community and educational contexts) Goldsmiths, University of London
Certificate for Teaching English as a Foreign Language (TEFL)
Bachelor of Arts in History of Art and Film Studies, University of Aberdeen
Over 10 years of teaching experience in Malaysia and Singapore
Elaine Foster is a spoken word poet, language arts educator, and community engaged theatre maker from Malaysia and the UK. She is particularly interested in incorporating arts education across the school curriculum. She founded the arts education platforms, My Poetry School and Poetry Cafe KL, through which she has taught in national, private, and international schools across Malaysia and Singapore, facilitating poetry, storytelling and drama workshops. Over the years, Elaine has given numerous talks on the use of poetry in education, performed her poetry at various literary events, organised youth literary festivals and has hosted her own radio show on Malaysia's BFM.

Elaine is a caring, energetic, and empowering youth mentor and advocate who works well with children and adolescents. She treats students with respect and understanding, establishing relationships based on mutual respect and understanding. Elaine believes that we are all lifelong learners, and she is always looking for an opportunity to improve her skills and knowledge through continuous professional development in order to better serve the students she teaches. She is currently pursuing a postgraduate certificate in education (PGCE), with a focus on secondary school personal, social, health, and economic education teaching and learning.