The principal goal of education is to create men who are capable of doing new things, not simply repeating what other generations have done.
— Jean Piaget, 1964
SRI UCSI Primary and Secondary is a private Co-educational school which provides quality education with genuine care. With the support and approval of the Ministry of Education, the school offers classes from Primary 1 to Form 5 and follows the National School Curriculum with additional Cambridge program for English Language, Mathematics and Science.
Special emphasis is given to the mastery of the English Language. Mandarin classes are also offered during the regular school hours. It is the aim of the school to mould the students to be tri-lingual in Bahasa Malaysia, English and Mandarin.
Regular school hours are:
Primary:
Mondays-Thursdays
8:00am – 3:30pm
Fridays
8:00am – 1:30pm
Secondary:
Monday
8:00am – 4:30pm (3:00pm – 4:45pm — Games)
Tuesdays-Thursdays
8:00am – 3:30pm
Fridays
8:00am – 1:00pm
The school is housed in high quality and fully air-conditioned buildings. It is also well equipped with air-conditioned classrooms, cafeteria, laboratories, library, music room, computer laboratory, basketball courts and other facilities. It is also just 300 meters away from the 3K sports complex where additional facilities like a swimming pool, tennis courts and squash courts are available for the students. The school compound is tastefully landscaped, providing an attractive and serene ambience. Adding to the core infrastructure are hosts of facilities to successfully implement holistic education to the students as well as enabling them to go through the day in comfort and in an atmosphere of fun. The facilities are upgraded and improved yearly to help cater for the growing number of students through careful planning to ensure that students get but the best.
About Our Logo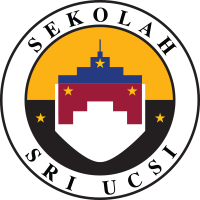 Within the inner circle is the picture of a ship.
The black semi circle represents the deep ocean of knowledge.
The yellow semi circle depicts the dawning of a bright future.
The five stars represent excellence.
The steps on the ship represent progress
The spire on the ship represents the pinnacle of success.
May you be like a ship sailing in the deep ocean of knowledge;
heading towards a bright future.

May you excel in all you do;
constantly making progress towards the pinnacle of success.
— Peter Tan