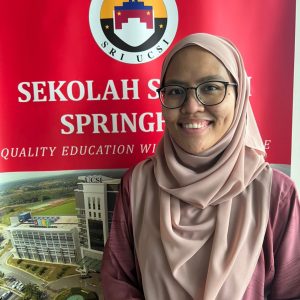 Nurezzatul Hajar binti Abd Rahman
Nurezzatul Hajar binti Abd Rahman is an English teacher with a Bachelor's in Education (TESL) from the Management & Science University. Growing in a family of educators she knew since a very young age that she wanted to follow their footsteps, hence why she began making her path as a teacher right after her SPM.
Still green in the industry, Hajar tries to grab as many opportunities as she can to expand her knowledge and skills as a good teacher. She moved to Japan for 3 years to teach English; and now that she is back, she challenges herself to teach English to a higher level of students.
Hajar enjoyed learning English when she was in school, thanks to her English teachers. Her teachers had successfully changed her mindset that the use of English language should not end when she finished high school, but it is a language that she will use in her whole life. Hajar dedicates her time and career as an English teacher as she wants her students to feel what she felt about English when she was younger.
She believes that a teacher holds part of the responsibilities in making this world a better place. Therefore, she aims to instil good values in her students through her lessons and hopes that at the end of the lesson students are able to learn more than just English language.