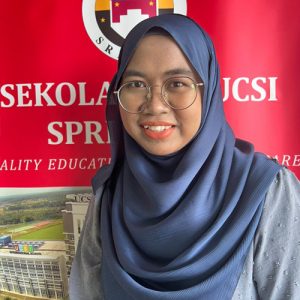 Nur Syafeeqah Amira Bt Mohd Suhaimi
Graduated from Universiti Pendidikan Sultan Idris (UPSI), Syafeeqah holds a Bachelor's degree in Early Childhood Education with Hons. and a Diploma in Teaching English as a Second Language (TESL). She is a warm and caring teacher who wants all children to be successful learners and works to create a classroom atmosphere that is stimulating, encouraging, and adaptive to the varied needs of students. She has experience of over 2 years in early years and primary students.
Syafeeqah is an enthusiastic, committed educator with an innate ability to understand and motivate children. She has been tutoring primary students for more than 4 years in one-on-one tutoring and group classroom. As a language teacher, she believes that engaging students with fun activities can help develop their language learning that integrates 4 skills in language learning: Reading, Writing, Speaking & Listening. Thus, she always practices 21st Century activities like Role-Play, Talking Chips, Team Word Web, and others in her classroom.
Syafeeqah truly believes that "All students can learn and succeed, but not on the same day, in the same way."