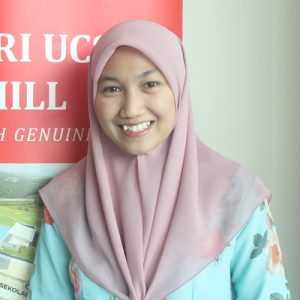 Nur Faizatul Azreen Binti Abdul Jalil
Economics, Accounts & Commerce Teacher
Having studied in the Universiti Pendidikan Sultan Idris (UPSI), Azreen graduated with a Bachelor's degree in Education, majoring in Economics in 2019. She holds a minor in Accounting and is an alumna of Kolej Matrikulasi Selangor in Accounting.
Azreen is very passionate about teaching Accounting and Economics due to her educational background in the field. Additionally, she has taught the two subjects during her practicum in SMK Seremban 2. She is very knowledgeable in implementing learning in a classroom to real-world situations. She supplements her skills with her experience as a private college's finance officer to provide knowledge of the field to her students in Economics and Accounting.
Azreen is very open-minded and possesses a positive mindset in approaching challenges. Furthermore, sports are an imminent interest to her. Azreen aims to grow and learn along with her students while teaching here.