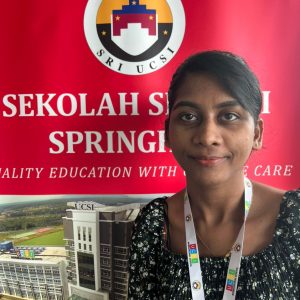 Kamalashne A/P Raju Gopal
Early Years And Arts Teacher
Kamalashne is an English teacher with a Diploma and Degree in Teaching English as a Second Language (TESL) from University Selangor (UNISEL) Bestari Jaya campus. She started as a trainee teacher during her practicum, teaching English in a government school for primary and secondary students including online teaching. Kamalashne has conducted 10 indoor and 3 outdoor microteachings in real school and university environment with supervisor observation, for complete beginners to advanced students.    
She has chosen the education field because she strongly believes that the teaching profession is a lifelong learning. After graduation, she began her career as an arts teacher because she loves creativity and wanted to grab the opportunity to gain new skills, knowledge, and experience.
In addition, she loves lively lesson, filled with enjoyable activities with various teaching methodologies, props, flash cards, and a white board to accomplish the desired goal. She makes use of total physical response and communicative approach for a better understanding to the students. As a teacher, she values her students and appreciate their trust.