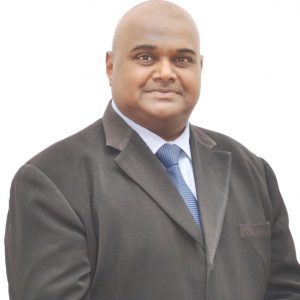 With 35 years of experience in tertiary and K-12 education, Dr Jeffery Louis is experienced in both corporate and international educational leadership. His priority is his students' happiness and joy in learning, which comes along with a quality academic team enhanced with the best in teaching and learning resources, where they contribute to ensure the overall happiness. He was the REAL Schools Shah Alam Campus Principal for the past 5 years, supervising both National Schools, and was the Principal of the International School (IGCSE) on the same campus. He was additionally instrumental in turning around academic excellence at the campus via his many academic and sports initiatives. He has spent a significant amount of time innovating and transforming academic excellence through 21st century learning, including English as a first language, intervention and bridging programmes, intensive English language skills workshops, STEAM projects, special UEC level Mandarin programmes, sports excellence, and most importantly, implementing the ten real-world skills that add value to each child at camp. His experience is complemented by his many years of tertiary education experience; where he has worn many hats as a lecturer, trainer, dean of schools, and head of college. He has taught and supervised many MBA students in entrepreneurship projects, start-up models, and strategic change. Dr Jeffery is a very passionate leader, embracing technology in education, project-based learning, and entrepreneurship.
He has also held corporate leadership positions with Proton Holdings Berhad as Head of Training and Development and with the Allson Hospitality Group as Director of Marketing and Group Leader for Learning and Development (Team Building Programmes). Currently he is the Hon. Deputy Treasurer of NAPEI (National Association of Private Education Institutions) and additionally holds key positions in sports associations and national sports bodies where he represents the National Sports Council and Olympic Council of Malaysia. He is also the Secretary General II for the National Judo Association and Chairman for Judo Development Malaysia, 5th Dan Instructor and Committee member of the Malaysian Shorin Ryu-Seibukan Karate-Do, and Deputy President of the Negeri Sembilan Judo Association. I was formerly a committee member of the Negeri Sembilan Squash Association. Dr Jeffery is very passionate about sports excellence and development. He co-founded a sports academy for martial arts development for the state of Negeri Sembilan. Beginning his career at UCSI Bandar Springhill, he is focused on making the campus a sports centre and academic excellence with the highest level of joy-filled learning journey.
Dr Jeffery has academic qualifications and professional certifications that provides added value when it comes to ensuring the best in teaching and learning is delivered on campus. He completed his early teaching certification course at the Raja Melewar Teacher Training College with distinction; a Diploma in Physical Education from UPM with distinction; a Certificate in Training Management from JT Frank Management and Associates; a Certificate in Quality Management Techniques from UTM; an Apple Distinguished Educator; a Master Degree in Business Administration (International Business) from Southern Cross University, Australia; and an Hon. Doctorate from UOJ and WAC Universities in Education/Teaching/Training and Humanities. He additionally holds many other certifications and awards in education leadership and sports excellence that add value to his overall contribution in the world of education, both locally and internationally.
With his 35 years as an academic and corporate leader, he is driven to bring dynamic changes at UCSI Springhill Campus. He is focused on making the campus a student-centred learning environment. He has a vision to set the highest standards among the teachers while providing each one of them with professional development and enhanced skills to continue providing the highest level of quality teaching and learning. Students will be taught and prepared with real-world skills that will assist them in growing. The emphasis on the use of technology in learning and project-based learning will be a key focus. Students will be taught to become entrepreneurs, where each one of them will be developed with a mindset that focuses upon becoming an employer rather than having an employee mindset. Dr Jeffery is driven by a passion to innovate and create changes where necessary to ensure that education brings a change to lives based on the ever-changing world that we live in. Think of a dynamic, ever-vibrant educational environment that's going to be taking place at UCSI Springhill Campus.