MESSAGE FROM OUR HEAD OF CAMPUS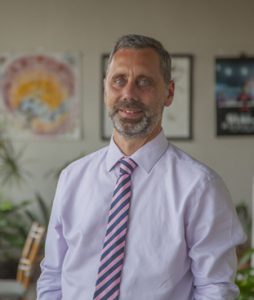 Mr. Philip McCormick
Philip McCormick will be joining as the Head of Campus for Sekolah Sri UCSI Kuala Lumpur. Previously, Philip was attached to another international school in Malaysia for two years. Throughout his career, he has over 16 years of international school experience that includes six years of school leadership. Philip holds an Honours degree in History and Politics from University College Dublin and a PGCE in History from Cambridge University.
He then obtained his Masters in Educational Leadership to enhance his leadership skills and currently, Philip is pursuing his Master's in Business Administration (MBA). Philip's focus for UIS Kuala Lumpur includes excellent academic standards, transparent structures, cutting-edge technologies, character education in the classroom as well as developing a school culture that focuses on positive teacher-student relationships. Additionally, Philip is very keen to build a positive relationship with the parents during this exciting educational journey to ensure that the school can grow forward.
Outside of school, Philip is married and has a beautiful daughter. He also enjoys spending time with his family, reading historical fiction, walking, and an occasional round of golf.
Dear Parents and Guardians,
Welcome to Sekolah Sri UCSI Kuala Lumpur and thank you for taking the time to visit our website.
It is my pleasure to introduce this new and exciting school to you that aims to prepare students for the 21st century global society.
Academic success is a key priority. Thus, the combination of the Malaysian National Syllabus (KSSR & KSSM) and Cambridge International Curriculum (British-based Curriculum) during the primary/elementary school will lay the foundations for Secondary School and the rigorous SPM and Cambridge IGCSE exams.
Furthermore, we will integrate technology as well as IT skills into the curriculum and CCA programme to ensure our students have the skills to succeed in the fast-paced development of the 21st century.
Additionally, we equip students with character virtues, values, and practical wisdom to be able to make a positive difference to their communities and the world around them. Although success is important, the journey to achieve their goal is also vital. Therefore, we aim to develop high achieving students with virtues such as integrity, honesty and empathy.
This website will give you a glimpse of the exciting school and CCA programme that we offer. We hope it encourages you to make contact and come to visit us! Our doors are open, and we are happy to assist and answer all of your questions.
A successful school is a partnership between teachers, students and parents. I look forward to helping this partnership grow and develop over the coming years.
Yours sincerely,
Philip McCormick