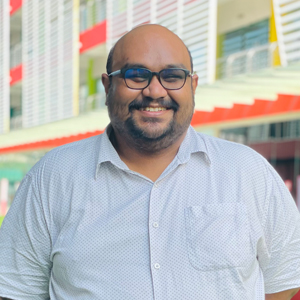 Mr. Mogantheren A/L R. Bhaskaran
Mr. Mogantheren has been in the education industry for over 14 years, with a majority of the years under the Primary & Secondary sector. He holds a Bachelors (Hons) in Finance from TWINTECH International University College of Technology and Diploma in Accountancy from Polytechnic, and is currently pursuing his Masters Degree in Business Administration from Lincoln University College. He has also served as a Secondary Coordinator, Senior Leader of Student Affairs, as well as Head of Department in his previous schools. 
Mr. Mogan has an extensive experience teaching Mathematics, Additional Mathematics, Business Studies and Accounting, both to National and International students.  
Mr. Mogan shares a deep passion for teaching and is dedicated to helping students acquire new knowledge. He regularly applies 21st-century teaching in his classroom through activity-based learning to build character, creativity, communication, critical thinking, and collaboration skills in students. In school, Mr. Mogan is often seen by students as the 'Giant Friendly Teddy Bear', showcasing a caring nature which prompts him to focus heavily on each student's welfare. 
As one of Mr. Mogan's favourite quote by Ignacio Estrada, "If a child can't learn the way we teach, maybe we should teach the way they learn". Mr Mogan believes that each student learns differently and teachers should adapt to help students understand better.